Born in Vancouver, Canada in 1953, Joel Hoffman received degrees from the University of Wales and the Juilliard School. He is a member of a distinguished musical family that includes brothers Gary and Toby, cellist and conductor, and Deborah, harpist. Honors include a major prize from the American Academy-Institute of Arts and Letters, two grants from the National Endowment for the Arts, the Bearns Prize of Columbia University, a BMI Award, ASCAP awards since 1977, and three American Music Center grants.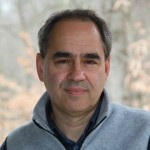 Hoffman's works draw from such diverse sources as Eastern European folk musics, Chinese traditional music and bebop, and are pervaded by a sense of lyricism and rhythmic vitality. They have been performed by many ensembles such as the Chicago Symphony Brass, the BBC Orchestra of Wales, the Cincinnati Symphony Orchestra, members of the Berlin Philharmonic, the Cleveland Quartet, the Shanghai Quartet, the Brentano Quartet and the Golub-Kaplan-Carr Trio. "Self-Portrait with Gebirtig", for cello and orchestra, has been performed in New York, Paris, Tel Aviv, Los Angeles, San Jose (Costa Rica), Washington, Baltimore, Pittsburgh, Cincinnati, Santa Barbara, Kronberg (Germany), and has been recorded by the Berlin Radio Symphony, the Kiev Chamber Orchestra as well as by the Slovenian Radio Symphony in Lubliana. Hoffman's opera, "The Memory Game", received its first performances in May of 2003. The opera examines the destructive nature of war, as seen from the perspective of Mordechai Gebirtig, the Polish-Jewish sogwriter from Krakow. The opera's libretto was written by Dutch novelist Henk Romijn Meijer. "Brave Old Mordechai" (based on material from the opera) was recently taken on tour in Holland by the Amsterdam Sinfonietta and Brave Old World. His concerto for dizi (Chinese bamboo flute) and dizi orchestra, "The Dizi in my Life", was performed at the Southbank Centre in London in 2014, and his second work including dizi orchestra, "sizzle 丝竹" for solo violin, solo cello, yunluo (Chinese gongs) and dizi orchestra, was performed at the National Centre for the Performing Arts in Beijing in 2015.
His music has been frequently heard at summer festivals such as Caramoor, Portogruaro, Korsholm, Evian, St. Nazaire, Newport, Chamber Music Northwest, Great Lakes Chamber Music Festival and the Seattle Chamber Music Festival. Some of the organizations that have commissioned Hoffman's music include the Berkshire Music Center at Tanglewood, the Fromm Foundation, the Cincinnati Symphony, the National Chamber Orchestra, the Washington Camerata and the American Harp Society.
All of Joel Hoffman's music is published, either by his own publishing house Onibatan Music or by RAI Trade, E.C. Schirmer, G. Schirmer and Lyra Music. There are recordings on the CRI, Koch, Stradivarius, Centaur, EMA and Deutsche Welle labels. A disc devoted to Hoffman's chamber music is available on the Gasparo label. There are three CDs on the Albany label: the three Piano Trios, "Self-Portrait", which focuses on Hoffman's cello music, and "Three Paths".